Have you ever tried a new cream and experienced a headache and itchiness shortly after application? If so the product contains harmful ingredients that might not be good for you.
A lot of Makeup brands in the market are mostly filled with toxic chemicals that can harm and destroy our system if used over time.  That's why we owe ourselves the duty of checking the ingredients list on every product we buy.   Without further ado, here are some of the ingredients you should most definitely avoid.
1. Paraben: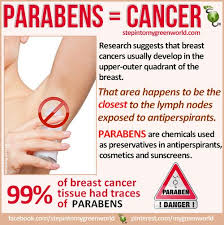 If there's one class of ingredients to avoid, it's Paraben. They have been a subject of discussion for quite some time now and are practically famous for being linked to breast cancer. Their main purpose in cosmetic products is to preserve the products from bacteria and fungi, while that sounds good, the truth is far from that.
Paraben is known to mimic Estrogen (a steroid secreted by the ovaries) and have been detected in human breast cancer tissue. They also interfere with reproduction, the nervous system and immune system; all of which we would like to keep in working order. This is one of the reasons they were banned by the EU in 2003. But that hasn't stopped most of these manufacturers from making use of them. Most companies now mask the presence of paraben by using other forms of paraben namely: propyl paraben, ethyl paraben, methyl paraben, and butyl paraben and phenoxy ethanol-which aren't good either.
Fragrance:
Fragrance is actually a mask for several thousands of products- all of which aren't good for your skin. Many companies use FDA loopholes to hide a whole range of ingredients many of which are phthalates (hormone disrupting ingredients) under the guise of fragrance. Chemicals associated with these terms are known to induce headaches, irritated eyes and asthma. To avoid this, it is best to opt for fragrance-free products or originally scented labels.
Triethanolamine (TEA):
Triethanolamine is a very common ingredient used in makeup production. It is commercially used to balance pH and is unknown whether it leads to severe consequences, but it is has been linked to eye irritation, allergic reactions, skin and hair dryness. If and when used consistently, Triethanolamine has been found to accumulate in the body and become toxic.
 Phenylenediamine (PPD):
Though it's not as common as the previous 3, phenylenediamine is still one of the very toxic chemicals to note. Usually found in hair and eyelash dyes, phenylenediamine is dangerous when in contact with skin and eyes. Because of its allergic nature, it can lead to different skin reaction on the scalp, neck, or ears-basically wherever the dye comes in contact with your skin.
Diethanolamine (DEA):
This chemical is commonly found in most personal products that foam including bubble baths, body washes, shampoos, soaps and facial cleansers Though it is not carcinogenic or dangerous by itself, doctors from Frontline ER claim that when in contact with other ingredients like MEA, diethanolamine can react with them to create a carcinogen which is later absorbed into the skin. Different forms of DEA like Lauramide DEA, cocomide DEA, and oleamide DEA are also dangerous, so don't let the labels fool you.
Propyl glycol:
This chemical is used in making shampoos, deodorants and mascara. It has many side effects including the risk of cancer, reproductive toxicity, allergies and skin irritation. It is also a penetrative enhancer meaning it penetrates skin cells, getting right into the bloodstream, carrying other chemicals with it.
So NEXT time you are shopping for Beauty products be sure to READ the ingredients before Purchasing.