This fruit has been a major part of our daily meal for ages ranging from salads to smoothies and all. Avocado is a fruit classified as a flowering plant with origins from south central Mexico and it is sometimes called an avocado pear or alligator pear because of the shape and rough green skin.
It is listed among the world's healthiest foods due to its nutritional value and benefits to the body and overall health of the individual; high avocado intake is said to lower blood cholesterol levels  due to its dietary fibre and monosaturated fat content. Avocado also contains about 75% fat which acts as a source of energy when eaten. A single serving of avocado is rich in several B vitamins, E, K and C.
Besides the above mentioned benefits of this fruit, avocado is also used for treating and restoring damaged hair and this is not new considering that the early Egyptians used avocado as a part of their daily haircare routine, to maintain the moisture of their hair, as well as preserve the shine of their hair.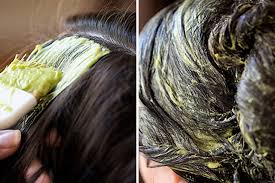 Hair loss also known as alopecia is a defect of the head that causes one to loose part of or the entire hair on their head. Several factors contribute to the hair falling off and the head going bald such as lack of vitamin B and E, excessive dryness of the hair follicles making them crack and break easily, poor styling methods, particularly the  use of heat equipment and the use of many harsh hair chemicals. Growing back lost hair takes a while and is not always a guarantee. However, Avocado has been shown to help reverse hair damage and loss.
There are various means of getting the best out of the avocado to be used for the hair which include avocado oil and paste.  Some people claim that it is also best to use the ENTIRE avocado, fruit and pit (seed) to rejuvenate damaged hair and add shine and health to the hair.The vitamin rich content of the avocado, vitamins E and B both work collectively to help restore the hair.
In using avocado to treat hair loss the recipe below is usually used:
A mask is made by combining avocado and egg yolk in a bowl with a little water to form a paste, dampen hair and work this rich paste evenly unto hair using the hands or comb massage continuously for five minutes cover with a rubber cap then rinse off with water and shampoo as usual.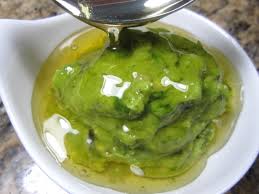 Avocado as an anti-dandruff:
Avocado is used to cure dandruff and itches which are mostly caused by dryness of the scalp and hair.
To use avocado as an anti-dandruff agent, mash the avocado fruit in a bowl add a little of olive oil and mix very well until it is well incorporated, apply on the entire head starting from the roots and scalp then massage for 10 minutes, cover the hair with a plastic cap and apply very low heat using a dryer for 5 minutes wash and condition as normal.
Avocado seeds can also used for this purpose too and to achieve this, dry seeds properly then grind them into a smooth powder and apply unto hair either mixed as a paste or in just powder form. Leave on for 30 minutes then rinse off and shampoo.
Avocado for shining hair:
To give dull hair back its shine and gloss, avocado is used to restore hair shine because of its fatty contents which nourishes hair follicle making it silky and smooth.
Mix avocado with olive oil and egg yolk, massage unto hair and leave for 25 minutes then rinse off with warm water and shampoo.
Remember, while it it's not bad to  nourish the hair from the inside, giving your hair alittle TLC now and then can help it grow healthy and strong. 
Source: www.allure.com