Recently popular on air personality Toolz put up a picture of her beauty regimen; a chemical peel, that had fans all in an uproar.
They claimed the popular radio personality was trying to change her complexion!
Is bleaching the same as chemical peels…
Absolutely not
Most times people tend to confuse bleaching with chemical peels and vice versa simply because the end result of a chemical peel is 1 shade or 2 lighter complexion.
Bleaching:
According to Wikipedia, skin bleaching is the practice of using chemical substances in an attempt to lighten one's skin tone or provide an even skin complexion by reducing the melanin concentration in the skin.
Bleaching methods are used mainly to even out skin tone; if the skin is disfigured/discoloured by birthmarks, acne marks or other skin disorders like vitiligo, bleaching creams, soaps and all can be used to lighten the areas affected and make them uniform in colour. Skin bleaching procedures aim at reducing or in most cases blocking melanin production. Melanin is the pigment that gives colour to the skin, eyes and hair.  Light-skinned people have less melanin when compared to their darker counterparts.
Hydroquinone is a popular component found in most bleaching treatments as it is a great ingredient used to stop the production of melanin. Aside using creams and soaps, the use of laser treatments have also been employed in the quest for a more even toned skin.
Chemical peels: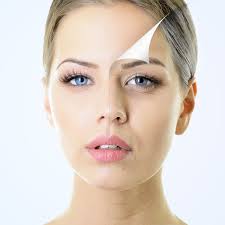 Chemical peels are skin treatments and procedures that are used to improve skin texture. The chemical peeling process involves using a chemical solution that allows the dead layers of the skin peel off easily; the revealed skin underneath the peeled one is fresher, softer and smoother than the outer layer peeled off and this also reveals a fairer skin when peeled.
Some of the popular chemical peels available include:
Alphahydroxy Acid peels: this involves the use of naturally occurring acids such as glycolic acid which is a constituent of sugar cane juice and lactic acid. This method is the mildest form of chemical peel yet and it is used mainly to treat wrinkles and acne.
Retinoic acid peel: this type of facial peel is far deeper in penetration than the betahydroxy acid option as this procedure involves the use of retinoic acid to solve scars and pigmentation problems. The retinoic peel solution is left on the face for hours and the peeling process takes place on the third day to ensure the acid penetrates deeply into the skin, multiple peels can be repeated over time.
Is the bleaching industry lucrative?
This industry is a multi-billion dollar business both in Nigeria and the rest of the world. According to the World Health Organisation, Nigeria is the biggest market for skin bleaching creams in the world as nearly 77 percent of Nigerian women use lightening products on a regular basis and this is because fair skin is now perceived as beautiful which make most people especially ladies want to lighten their skin using bleaching and chemical peels or other available options. The skin lightening market is expected to be worth $19.8 billion by 2018.
Side effects:
Some evidences suggest that some types of skin bleaching products use ingredients that are harmful to the skin and overall health; a test of common skin bleaching creams in Nigeria proved that they could likely cause hyperpigmentation and can be carcinogenic too. Deep chemical peel on the other hand is NOT recommended for black skin because it may result in complications such as injury and scarring of the skin.
Seek professional help from a dermatologist before embarking on any of the above "journeys" so as to ascertain the most suitable option for your skin.
So for the fans hounding Toolz about her chemical peel, lighten up! (pun intended) she's just improving her skin's texture