Hi Ladies! I know it's not easy finding a foundation that works for us, well you're in luck because the lovely beauty editors at Allure have compiled a list of noteworthy foundations perfect for #Melanin goddesses like us.
Check them out!
Iman second to none stick foundation
It is indeed second to none in the makeup and beauty world. It contains jojoba oil which is a plant extract from jojoba seeds, jojoba oil helps to regulate the sebum production of the facial skin and it keeps it in check by making an extremely oily skin secrete only the needed amount of oils and this reduces the possibility of the pores getting blocked. Iman second to none stick foundation is a good choice for oily and combination skin as it is paraben free and an ideal bet for a dark natural looking complexion.
Bobbi brown skin foundation:
The award winning beauty piece is a must have for black beauties as it looks natural when applied, it leaves no trace or lines and lasts all day giving your face just the right amount of hydration it needs. Unlike some other foundations that make dark skin appear dull, this brown skin foundation is customized for dark skin and specially formulated to make coloured skin glow and bring out its beauty; with its balanced formula it is able to minimize pores and conceal facial blemishes making your skin comfortable and clean.
Becca ever-mate shine proof foundation:
This micro fine powder particles is designed to absorb excess oils, it contains vitamin E and A which are great beauty ingredients and provides a medium buildable coverage for that perfect finish. With its micro fine powder contents, this perfect shine proof foundation lasts all day without wearing out no matter how busy you are or what you do
It is free from oil, alcohol and fragrance and highly recommended for women of colour.
Black up matifying fluid foundation:
This fluid stretches easily and adapts to the skin with blemishes giving it a natural finish. It is packed with sebum-regulating ingredients to balance oily skin, smoothen and provide more comfort. This is a very good pick for darker skin tones that are difficult to match, its range include some of the darkest shades you can get which makes it a must have for women of colour.
Ashunta Sheriff Beauty perfect blend dual blend foundation:
Created by celebrity makeup artist, Ashunta Sheriff, this two way beauty piece is both used as a foundation on one end and also as a concealer on the other end giving you double value for your money. It is smooth and buttery in texture making it easy to apply on the face, and it blends beautifully making the face blemish-free without leaving traces or lines. This stick has been described as a problem solver as it reduces the burden of carrying a foundation and concealer separately due to its dual function usage.
Make up for ever mat velvet matiffying foundation: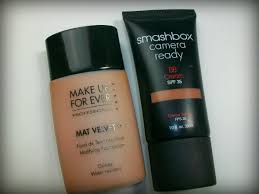 This flawless piece is a water resistant formula and long lasting. Great for oily and combination skin, it creates a velvety finish and it is a good product to hide blemishes and freckles. It is highly recommended to be used on sensitive and oily skin as it is non comedogenic (it is not capable of blocking or clogging pores). This matte finish brand looks best on dark skinned women with oily skin.
Hope this helps you when next you go shopping for foundation!
Source: www.allure.com